Yellowstone John Dutton S05 Cotton Jacket
November 14, 2022
Yellowstone John Dutton S05 Cotton Jacket
Yellowstone John Dutton S05 Cotton Jacket
Buy this Yellowstone John Dutton Cotton Jacket now from Skinoutfits
In the John Dutton Yellowstone S05, John Dutton was stunning. John Dutton plays a similar role in Yellowstone. American television drama series Yellow Stone. The same year saw the debut of Yellowstone's fifth season. A cattle commissioner serves as the central character in this fascinating television series. He serves as the Montana Livestock Association's commissioner. He wants to increase this organization's impact so that it may operate on a bigger scale.
John Dutton was played by Kevin Costner, in addition. Kevin did a wonderful job playing the part while retaining his charm. Kevin Michael Costner is a fantastic actor, producer, and director who has already achieved widespread acclaim. In addition, Kevin already possesses the other most prestigious accolades and has won two Academy Awards.
The Yellowstone John Dutton S05 Cotton Jacket, however, seemed just as fantastic as Kevin Costner must have thought it did. A fantastic wardrobe style was necessary for John Dutton's most important part. The audience is won over by John's choice of clothing, which are extremely remarkable.
Season 5 of Yellowstone The best suit fabric is used to create Kevin Costner's black blazer, which sticks out in the crowd. Its even and comfy viscose lining will keep you warm and cosy. The collar with a lapel appears to be so fashionable at all times. The Yellowstone John Dutton Jacket's dark colour provides the outerwear a vibrant appearance.
SPECIFICATIONS:
Material: Cotton Fabric
Inner: Viscose Lining
Closure: Button Style Closure
Collar: Shirt Style Collar
Cuffs: Buttoned Cuffs
Color: Black
Checkout our amazing products at Amazon-skinoutfits
MEN'S JACKET SIZE CHART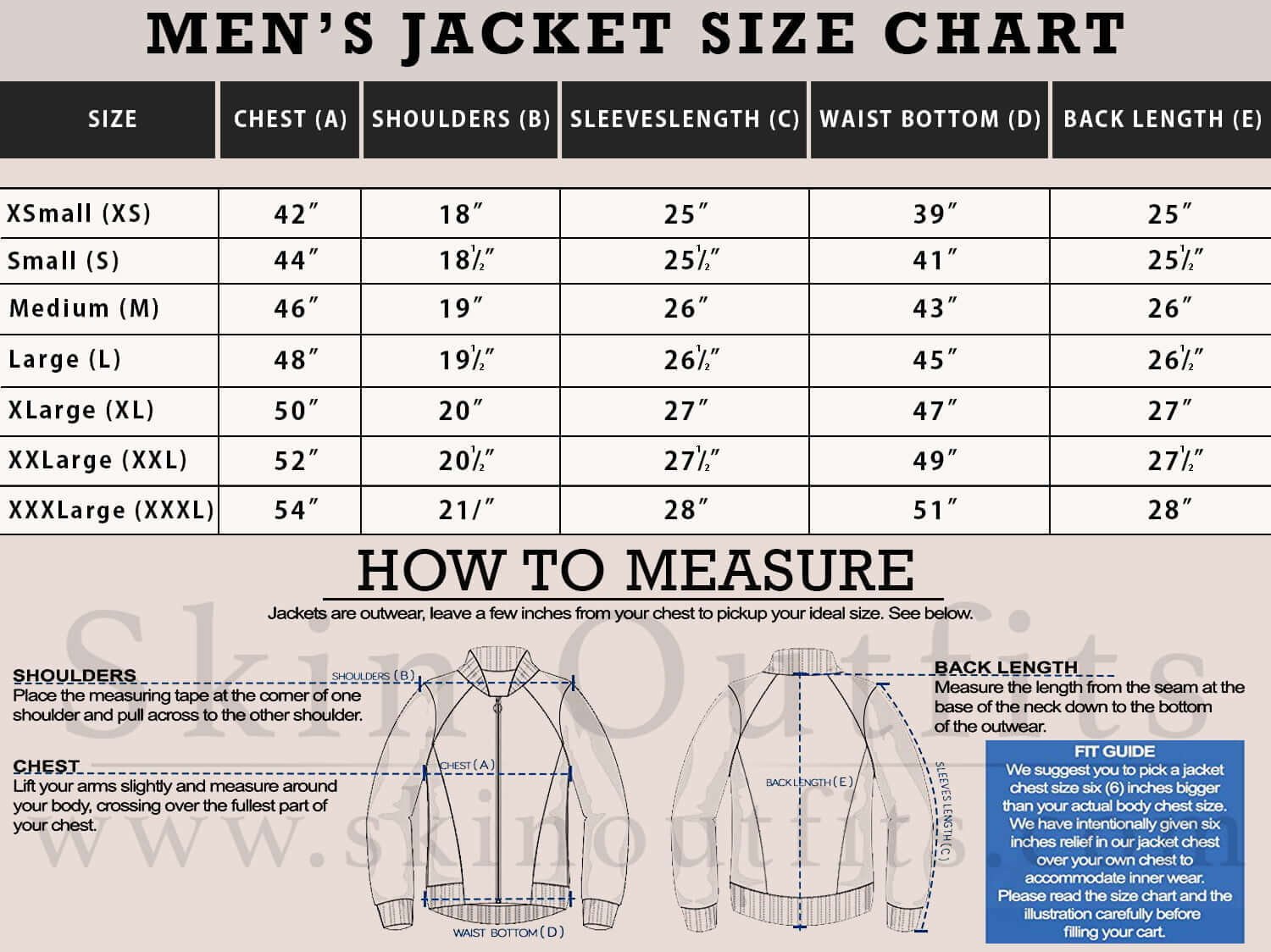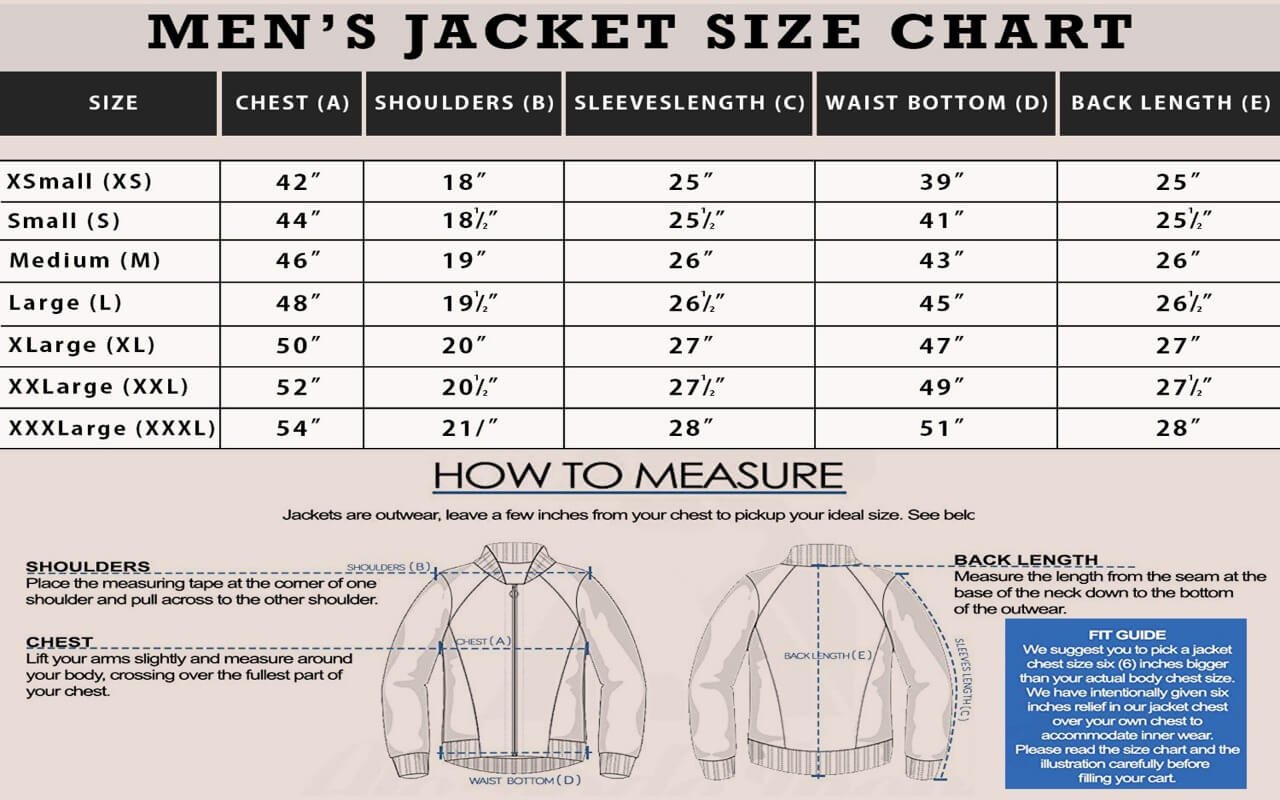 Men Jacket Chart Size
Looking for a jacket that fits your body like it's made just for you? We've got you. Skin Outfits provides you a complete range of sizes in its men coat chart size/men jacket chart size. Also, we give you the easiest way to measure your body because all your measurements are taken close to the body. Also, make sure you're not measuring over regular clothes or jackets.
Men's Measurements
Please follow the men coat chart size/men jacket chart size below to measure your size.
Chest: The chest is the major part of your measurement for the jacket. You must first stand up and then relax your arms. To have a better measurement, ask someone else to wrap the measuring tape around your chest. Make sure there is an inch space for the tape to move. For a regular fitting jacket, you may add an inch more.
Shoulders: Relax your shoulders and ask someone to measure using the tape from one shoulder end to another.
Sleeve: To measure sleeve length, bend your arm and lift it over the chest so you are able to touch your nose with your hand. From the bottom of the neck to the elbow and then to the wrist bone, measure thoroughly.
Waist Bottom: You will measure the waist as you've measured the chest, but with the exception that you'll take measurements from around the waist.
Back Length: You can measure the back length by starting from the seam of the base of the neck to the bottom of your waist.
Please note that whenever you're going to choose your jacket using our men coat chart size/men jacket chart size, we suggest you pick a size that is two inches bigger than your actual size.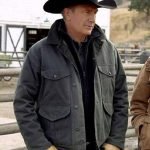 Yellowstone John Dutton S05 Cotton Jacket