WWE Edge 2022 Red Leather Jacket
September 22, 2022
WWE Edge 2022 Red Leather Jacket
WWE Edge 2022 Red Leather Jacket
Get the Best outfit available WWE Edge Jacket unique style present at Skinoutfits
Do you appreciate wrestling matches? Try on this fantastic WWE Summerslam 2022 Edge Red leather flash jacket if you wish to dress in the same safety gear that they do. You can attract a lot of attention to yourself with the jacket's striking exterior and stylish design. Fans have already expressed their ardent desire for the technique to be applied to produce really fantastic wrestler looks since it was first debuted during the most recent WWE SummerSlam.
The finest leather is used to masterfully craft the Summerslam edge jacket. It has an erect-style collar and a zipper-style closing. There are two pockets inside the Red WWE Summerslam edge leather jacket, including two inside pockets. It looks edgy thanks to its studded sleeves and zipper cuffs. This striking jacket has all the aesthetic appeal of a vintage studded leather jacket and will keep you warm throughout all the seasons. Grab this incredible jacket from Skinoutfits and steal the show.
Here at skinoutfits We created the same designed WWE SummerSlam 2022 Edge Leather Jacket for you in order to prioritize your needs. The jacket's main components are an intricately stitched viscose lining and a blend of real and synthetic leather. In addition, the jacket includes an erect collar, long sleeves with zipper cuffs, and a zipper closure. The sleeves also feature a similar studded motif. The jacket as a result has two fantastic exterior pockets and two inner pockets. We also took into account your need for pockets. This blazing red shade is offered to give you the desired wrestling vibe, but it's not the last.
Product Specifications:
Material: Real Leather
Inner: Viscose Lining
Front: Zipper Closure
Collar: Stand-Up Collar
Pockets: Two in Front and Two Inside
Sleeves: Full-length Sleeves
Color: Red
Checkout our amazing products at Amazon-skinoutfits
MEN'S JACKET SIZE CHART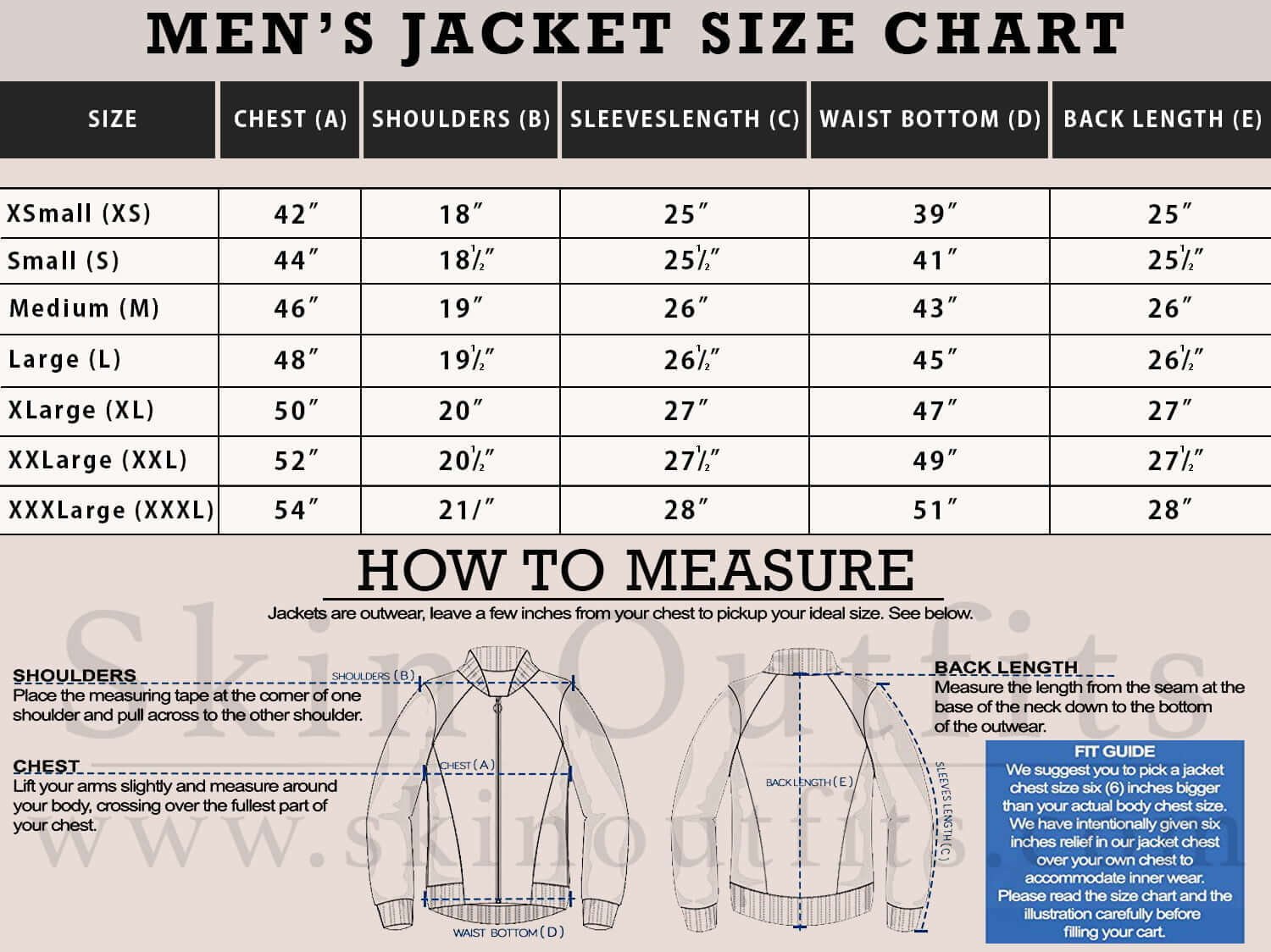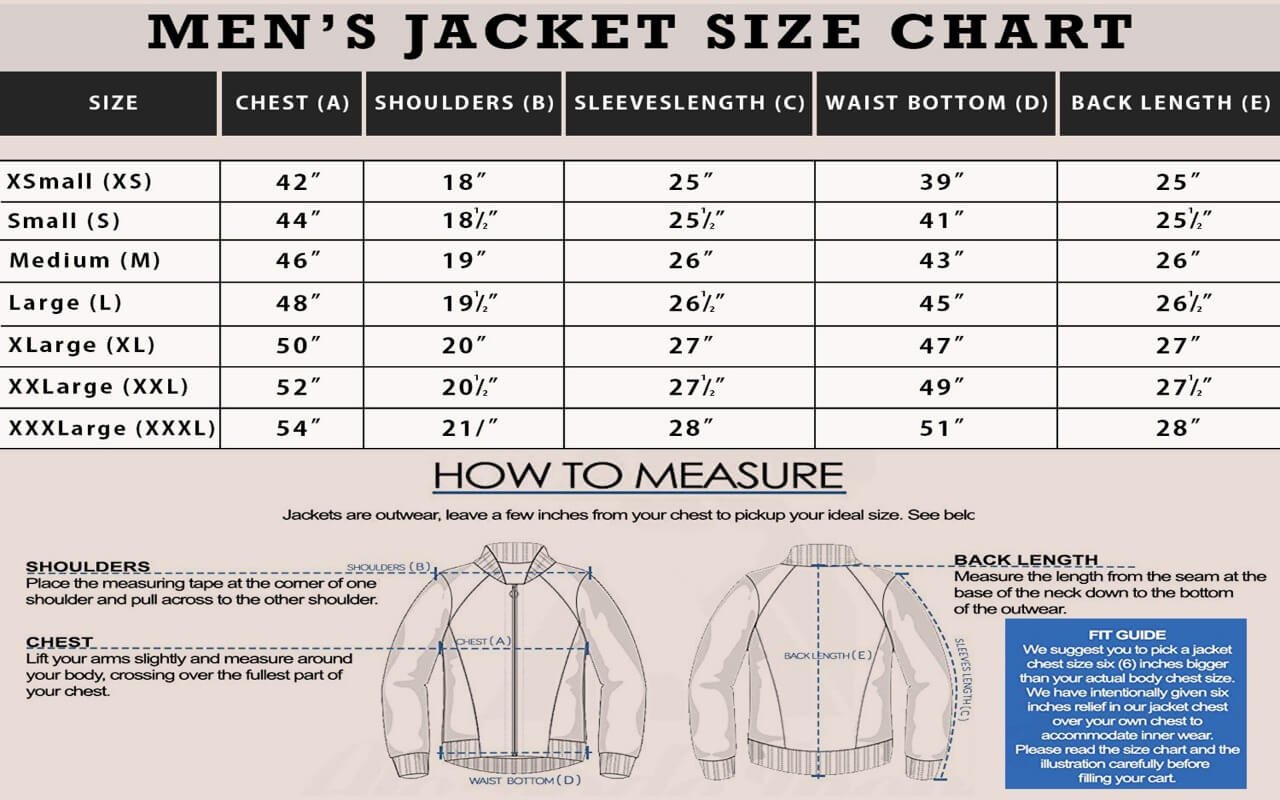 Men Jacket Chart Size
Looking for a jacket that fits your body like it's made just for you? We've got you. Skin Outfits provides you a complete range of sizes in its men coat chart size/men jacket chart size. Also, we give you the easiest way to measure your body because all your measurements are taken close to the body. Also, make sure you're not measuring over regular clothes or jackets.
Men's Measurements
Please follow the men coat chart size/men jacket chart size below to measure your size.
Chest: The chest is the major part of your measurement for the jacket. You must first stand up and then relax your arms. To have a better measurement, ask someone else to wrap the measuring tape around your chest. Make sure there is an inch space for the tape to move. For a regular fitting jacket, you may add an inch more.
Shoulders: Relax your shoulders and ask someone to measure using the tape from one shoulder end to another.
Sleeve: To measure sleeve length, bend your arm and lift it over the chest so you are able to touch your nose with your hand. From the bottom of the neck to the elbow and then to the wrist bone, measure thoroughly.
Waist Bottom: You will measure the waist as you've measured the chest, but with the exception that you'll take measurements from around the waist.
Back Length: You can measure the back length by starting from the seam of the base of the neck to the bottom of your waist.
Please note that whenever you're going to choose your jacket using our men coat chart size/men jacket chart size, we suggest you pick a size that is two inches bigger than your actual size.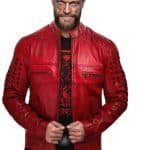 WWE Edge 2022 Red Leather Jacket