Thor Love and Thunder 2022 Chris Hemsworth Leather Vest
July 25, 2022
Thor Love and Thunder 2022 Chris Hemsworth Leather Vest
Thor Love and Thunder Chris Hemsworth Leather Vest
Halloween Best outfit available Thor Love and Thunder Leather Vest unique style present at Skinoutfits.com
She needs to go, and you should too. Fans of the upcoming film can now purchase this distinguished vest at the official Skinoutfits website. Australian star Chris Hemsworth looks very stunning wearing this Thor 4 Vest, which has a stunning design.
In the movie, Chris Hemsworth plays a retired Thor who is struggling to figure out who he is and what he wants to do while sporting the well-known Thor Love and Thunder (2022) Vest. Along with her, the film also stars Tessa Thompson, Natalie Portman, Matt Damon, and Taika Waititi as the director. Numerous vintage outfits worn by the protagonists in this entertaining and action-packed movie are featured, including the endearing Love and Thunder Vest.
Our Thor Vest is a vividly coloured outerwear item that exactly resembles those shown in the film. It is manufactured with traditional manufacturing techniques and won't let you down in terms of quality or style. If you want a delicately styled, sleeveless jacket, the Thor 2022 Vest is ready to wear. The Chris Hemsworth Vest is adorned with his distinctive designs and patterns and is not only stylish but also simple to wear.
This gorgeous Thor Love and Thunder Vest is one of the current celebs and fashion trends that Skinoutfits can bring you. The ability to select the Thor Vest's fabric from PU and genuine Leather is its finest feature. Additionally, this jacket has a line of viscose inside that adds to its warmth and comfort. This outfit is really lovely; you shouldn't wait to acquire it. So why are you still waiting? Order this unique Thor vest right away!
Product Specification:
Material: Real Leather
Inner: Viscose Lining
Front: Zipper Closure
Collar: Lapel Style Collar
Checkout our amazing products at Amazon-skinoutfits
MEN'S JACKET SIZE CHART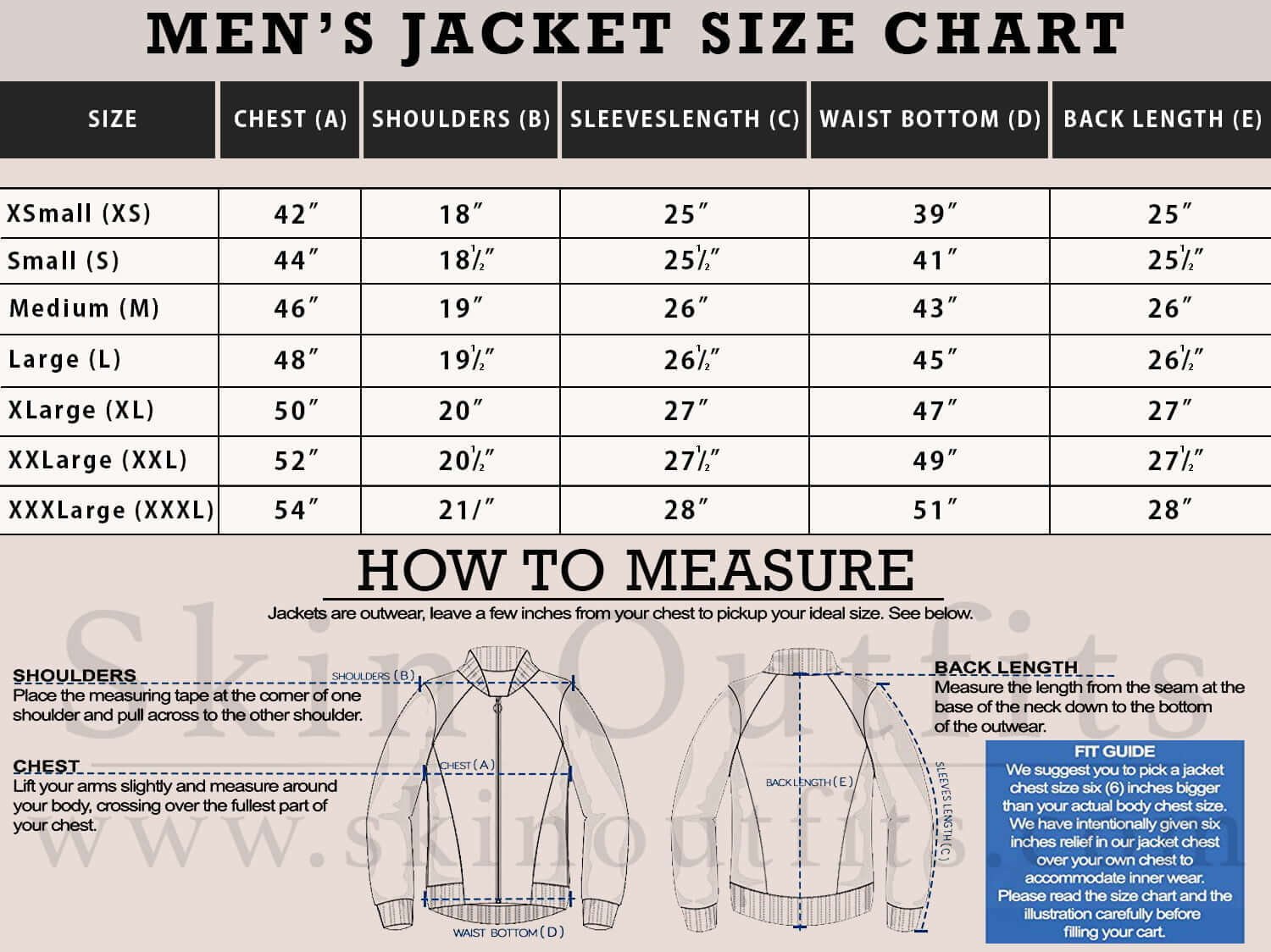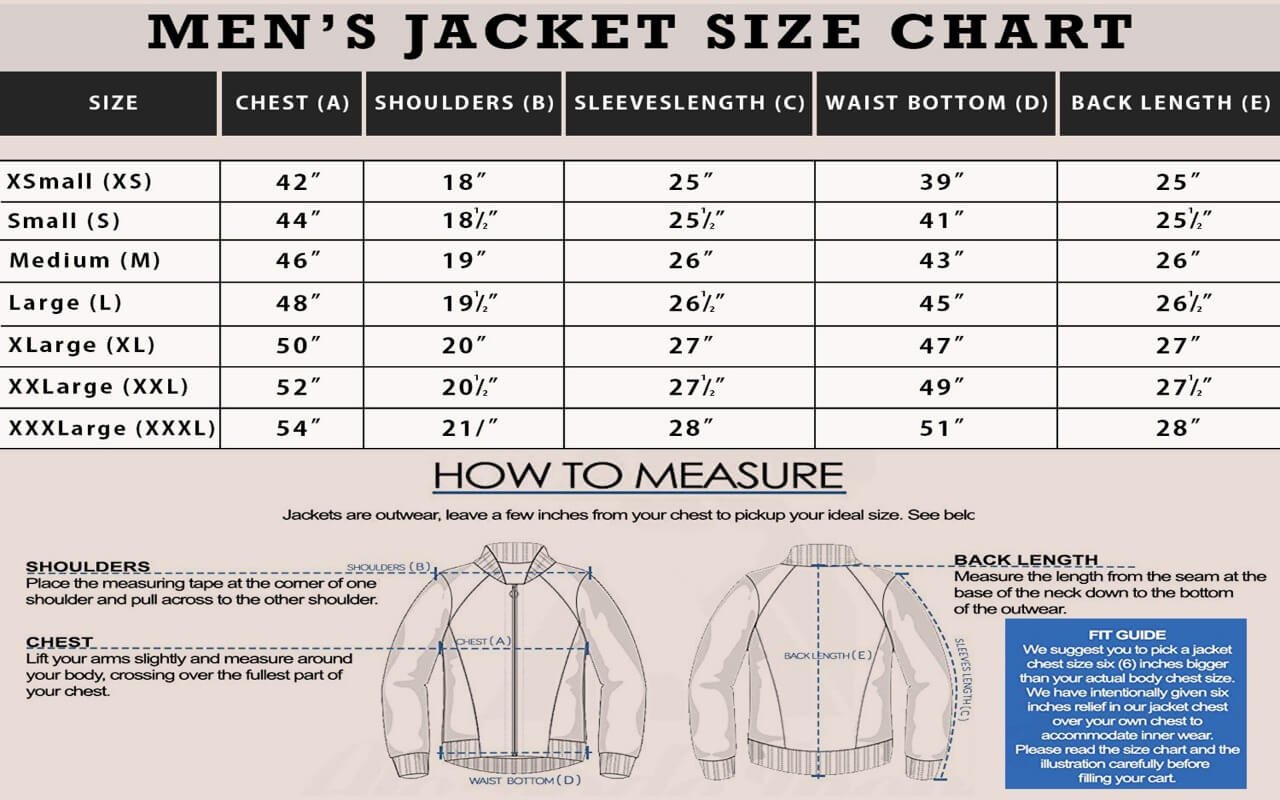 Men Jacket Chart Size
Looking for a jacket that fits your body like it's made just for you? We've got you. Skin Outfits provides you a complete range of sizes in its men coat chart size/men jacket chart size. Also, we give you the easiest way to measure your body because all your measurements are taken close to the body. Also, make sure you're not measuring over regular clothes or jackets.
Men's Measurements
Please follow the men coat chart size/men jacket chart size below to measure your size.
Chest: The chest is the major part of your measurement for the jacket. You must first stand up and then relax your arms. To have a better measurement, ask someone else to wrap the measuring tape around your chest. Make sure there is an inch space for the tape to move. For a regular fitting jacket, you may add an inch more.
Shoulders: Relax your shoulders and ask someone to measure using the tape from one shoulder end to another.
Sleeve: To measure sleeve length, bend your arm and lift it over the chest so you are able to touch your nose with your hand. From the bottom of the neck to the elbow and then to the wrist bone, measure thoroughly.
Waist Bottom: You will measure the waist as you've measured the chest, but with the exception that you'll take measurements from around the waist.
Back Length: You can measure the back length by starting from the seam of the base of the neck to the bottom of your waist.
Please note that whenever you're going to choose your jacket using our men coat chart size/men jacket chart size, we suggest you pick a size that is two inches bigger than your actual size.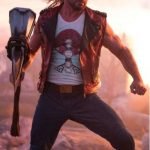 Thor Love and Thunder 2022 Chris Hemsworth Leather Vest