Thomas Shelby Peaky Blinders Trench Coat
October 28, 2022
Thomas Shelby Peaky Blinders Trench Coat
Thomas Shelby Peaky Blinders Trench Coat
Best outfit available Thomas Shelby Trench Coat with unique style present at Skinoutfits.com
The crime drama series Peaky Blinders is based on the same-named urban youth gang from the 19th century. Birmingham is home to the English mobster family known as Peaky Blinders. The story revolves around the exploits of the Shelby crime family in the years following World War 1. Peaky Blinders, an excellent English drama series based on the fascinating tale of a well-known Birmingham family and their exploits, headed by Thomas Shelby, is also a great show. Amazing combination that embodies class and style, Peaky Blinders Thomas Shelby Trench Coat fantastic.
The well-known personality Cillian Murphy wore this timeless coat on the programme, inspiring all of his fans to buy one for themselves. With a plush viscose lining, this Thomas Shelby trench coat is made of a premium wool mix fabric. A button front fastening and collars in the lapel style enhance the appearance of this men's coat.
The eye-catching black colour of the trendy Peaky Blinders Thomas Shelby Trench Coat is an option. The coat has a professional appearance thanks to its long sleeves and exposed hem cuffs. This TV Series Costumes has two waist pockets and two interior pockets to keep your valuables secure. Why do you continue to ponder about it if you appreciate its features? Put it in your shopping cart right away to improve your appearance and impress your friends.
Checkout our amazing products at Amazon-skinoutfits
SPECIFICATION:
Material: Wool
Collar: Lapel-style Sherpa collar
Front: Buttoned closure
Inner: Soft viscose lining
Color: Black
MEN'S JACKET SIZE CHART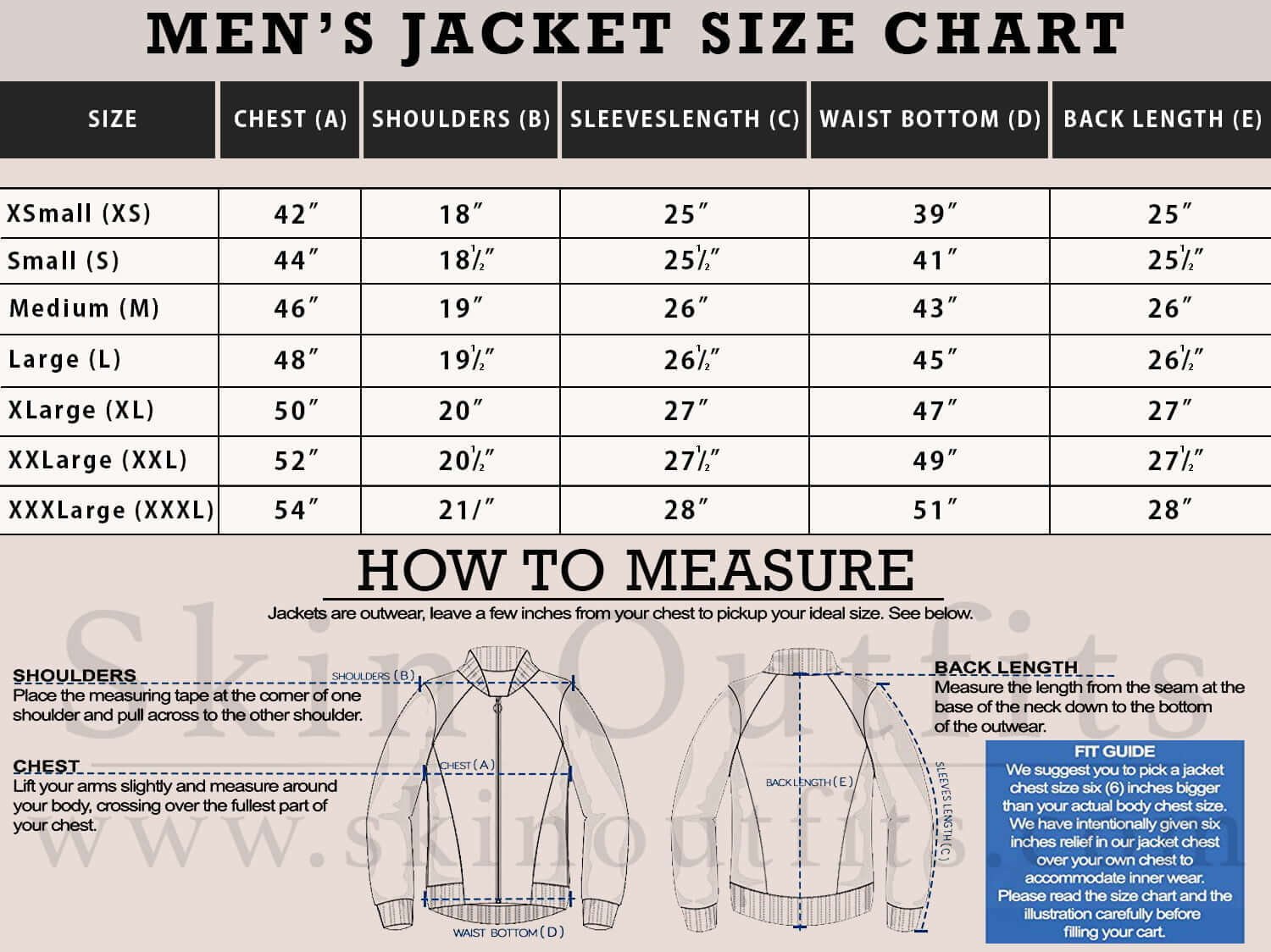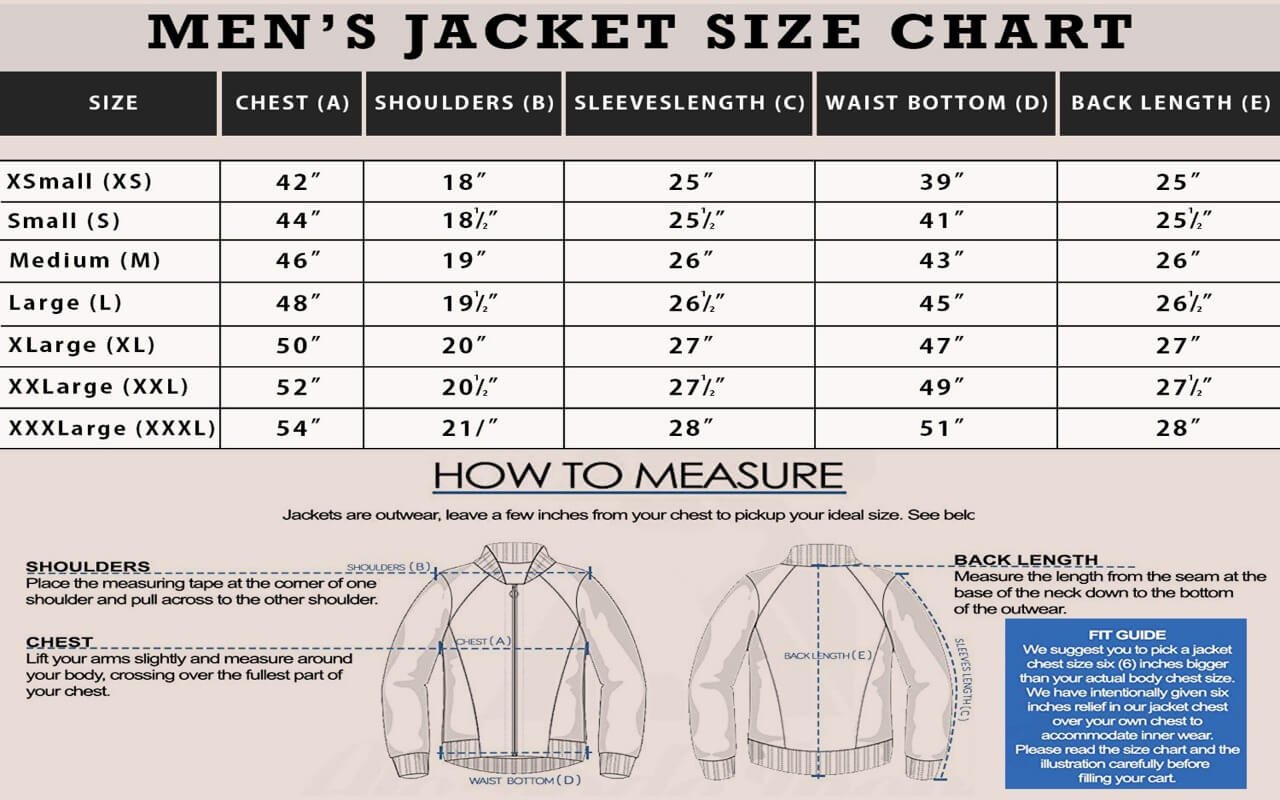 Men Jacket Chart Size
Looking for a jacket that fits your body like it's made just for you? We've got you. Skin Outfits provides you a complete range of sizes in its men coat chart size/men jacket chart size. Also, we give you the easiest way to measure your body because all your measurements are taken close to the body. Also, make sure you're not measuring over regular clothes or jackets.
Men's Measurements
Please follow the men coat chart size/men jacket chart size below to measure your size.
Chest: The chest is the major part of your measurement for the jacket. You must first stand up and then relax your arms. To have a better measurement, ask someone else to wrap the measuring tape around your chest. Make sure there is an inch space for the tape to move. For a regular fitting jacket, you may add an inch more.
Shoulders: Relax your shoulders and ask someone to measure using the tape from one shoulder end to another.
Sleeve: To measure sleeve length, bend your arm and lift it over the chest so you are able to touch your nose with your hand. From the bottom of the neck to the elbow and then to the wrist bone, measure thoroughly.
Waist Bottom: You will measure the waist as you've measured the chest, but with the exception that you'll take measurements from around the waist.
Back Length: You can measure the back length by starting from the seam of the base of the neck to the bottom of your waist.
Please note that whenever you're going to choose your jacket using our men coat chart size/men jacket chart size, we suggest you pick a size that is two inches bigger than your actual size.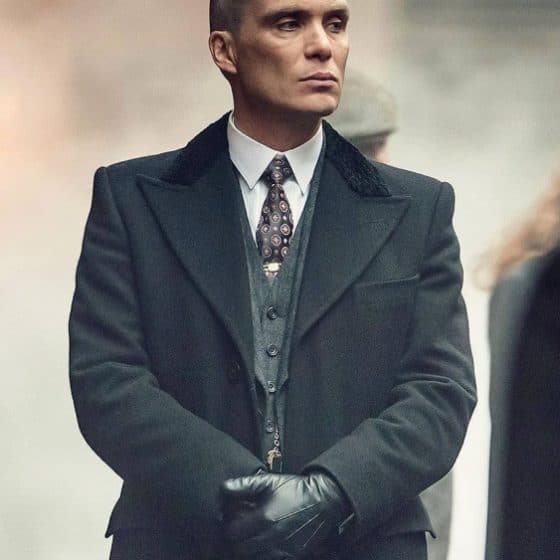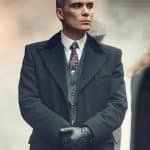 Thomas Shelby Peaky Blinders Trench Coat