Mike Myers Austin Power Pinstripe Suit
October 28, 2022
Mike Myers Austin Power Pinstripe Suit
Mike Myers Austin Power Pinstripe Suit
Get the Best outfit available Mike Myers Austin Power Suit unique style present at Skinoutfits
The Austin Power movies are a satire of spy movies from the 1960s, like The Saint and James Bond. The film includes a lot of different elements from the teenage culture of the 1960s to the 1990s in addition to the parodies. In this humorous parody of a 1960s spy film, a swinging secret agent gets thawed out of his cryogenic slumber to battle his archenemies. As Myers entertains in two crucial parts, the laughter doesn't stop. Austin was spotted sporting an incredibly spiffy Austin Power Pinstripe Suit. So save yourself some time and embody this timeless figure. Boys, then! Before it sells out, order this fashionable suit.
This fashionable men's suit is constructed of a comfortable viscose fabric lining and premium cotton fabric. With a notch lapel-style collar, full sleeves, and open hem cuffs, it is exquisitely created. It also includes two pockets inside and three flap waist pockets on the exterior. Additionally, it includes a front opening with buttons to close it. This fashionable coat for guys comes in blue with red lines. This coat is worn with blue pants that have red lines running through them and are likewise made of cotton.
Product Specification
Coat
Material: Suiting Fabric
Internal: Soft Viscose Fabric Lining
Collar: Notch Lapel Style Collar
Sleeves: Full Sleeves
Cuffs: Open Hem Cuffs
Pockets: Three Flap Waist Pockets Outside and Two Pockets Inside
Front: Front Open Button Closure
Color: Blue with Red Lines
Pant:
Material: Suiting Fabric
Color: Blue with Red Lines
Checkout our amazing products at Amazon-skinoutfits
MEN'S JACKET SIZE CHART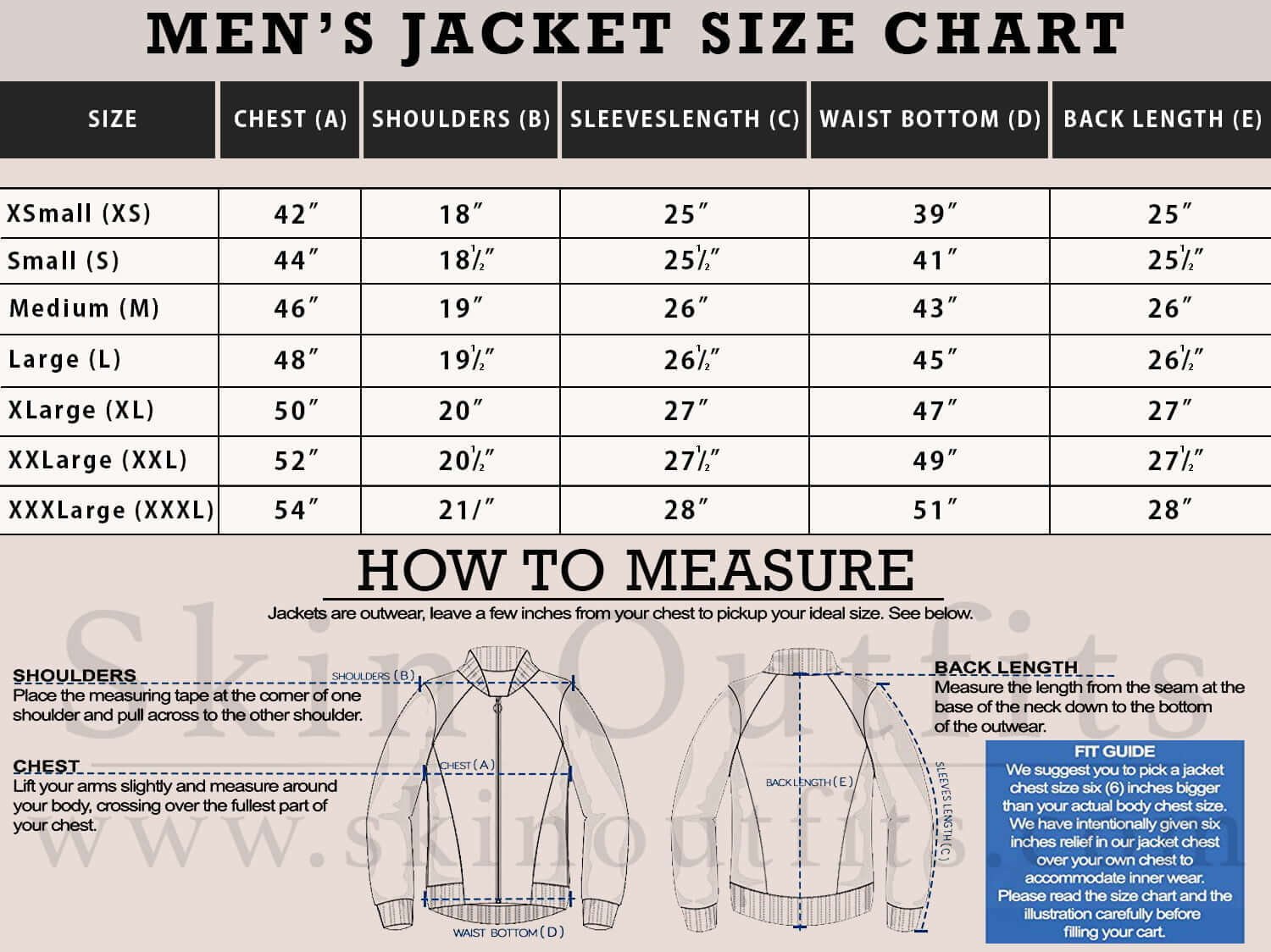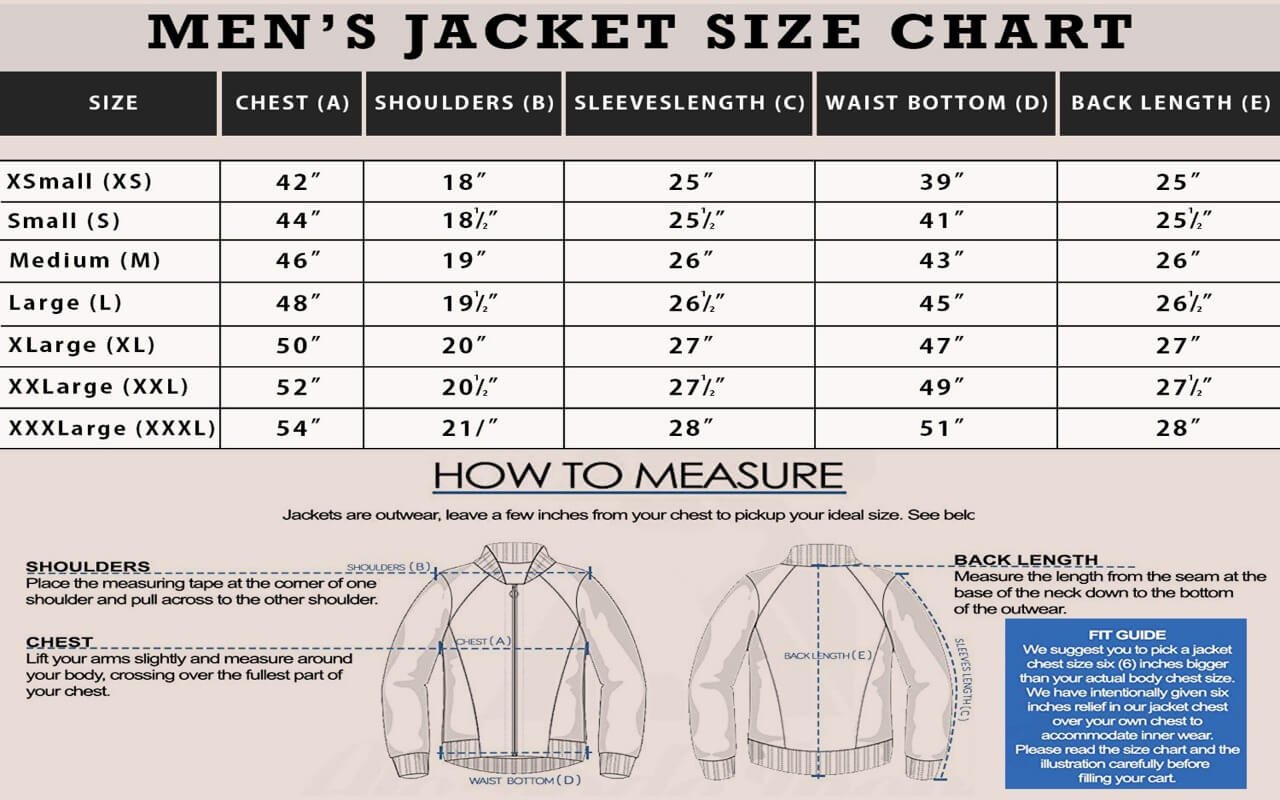 Men Jacket Chart Size
Looking for a jacket that fits your body like it's made just for you? We've got you. Skin Outfits provides you a complete range of sizes in its men coat chart size/men jacket chart size. Also, we give you the easiest way to measure your body because all your measurements are taken close to the body. Also, make sure you're not measuring over regular clothes or jackets.
Men's Measurements
Please follow the men coat chart size/men jacket chart size below to measure your size.
Chest: The chest is the major part of your measurement for the jacket. You must first stand up and then relax your arms. To have a better measurement, ask someone else to wrap the measuring tape around your chest. Make sure there is an inch space for the tape to move. For a regular fitting jacket, you may add an inch more.
Shoulders: Relax your shoulders and ask someone to measure using the tape from one shoulder end to another.
Sleeve: To measure sleeve length, bend your arm and lift it over the chest so you are able to touch your nose with your hand. From the bottom of the neck to the elbow and then to the wrist bone, measure thoroughly.
Waist Bottom: You will measure the waist as you've measured the chest, but with the exception that you'll take measurements from around the waist.
Back Length: You can measure the back length by starting from the seam of the base of the neck to the bottom of your waist.
Please note that whenever you're going to choose your jacket using our men coat chart size/men jacket chart size, we suggest you pick a size that is two inches bigger than your actual size.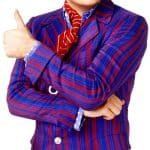 Mike Myers Austin Power Pinstripe Suit