Me Time 2022 Sonny Fisher Tracksuit
September 20, 2022
Me Time 2022 Sonny Fisher Tracksuit
Me Time 2022 Sonny Fisher Tracksuit
Best outfit available Me Time 2022 Sonny Fisher Tracksuit unique style present at Skinoutfits.com
Your go-to outfit for any occasion will be this White and Blue Me Time Tracksuit. It is the attire of Sonny Fisher and Huck Dembo, two best friends who reunite for a crazy weekend away from their families in the popular Netflix buddy comedy film. Kevin Hart and Mark Wahlberg wore it. It is a unique attire that is ideal for all of your indoor and outdoor activities. Put on this timeless Sonny Fisher tracksuit to combine fashion and comfort in one look. This outfit is ideal for jogging, yoga, or any other activity that demands you to be active and in motion thanks to its athletic fit and lightweight, breathable fabric.
Prepare for a workout in this premium Huck Dembo tracksuit, available at Shop Celebs Wear for fitness fans of all tastes.
Our Me Time Tracksuit is made of fleece polyester fabric and comes in White or Blue. Both tracksuits include the same basic features, such as a full zip-up front, side pockets on the jacket and pants, and rib-knitted trim on the hem and cuffs, with the exception of slight variations in front pattern and collar design. These tracksuits also include raglan sleeves, which further modernizes their appearance. You can stay comfy and active all day long with this attractive and useful gadget.
So don't miss out any further and order this Kevin Hart and Mark Wahlberg's Me Time Tracksuit today from Skinoutfits.com
Specification
Material: Fleece
Inner: Viscose Lining
Front: YKK Zipper Closure
Collar: Rib Knitted Collar
Cuffs: Rib Knitted Cuffs
Pockets: Two Outside and Two Inside Pockets
Color: White
Checkout our amazing products at Amazon-skinoutfits
MEN'S JACKET SIZE CHART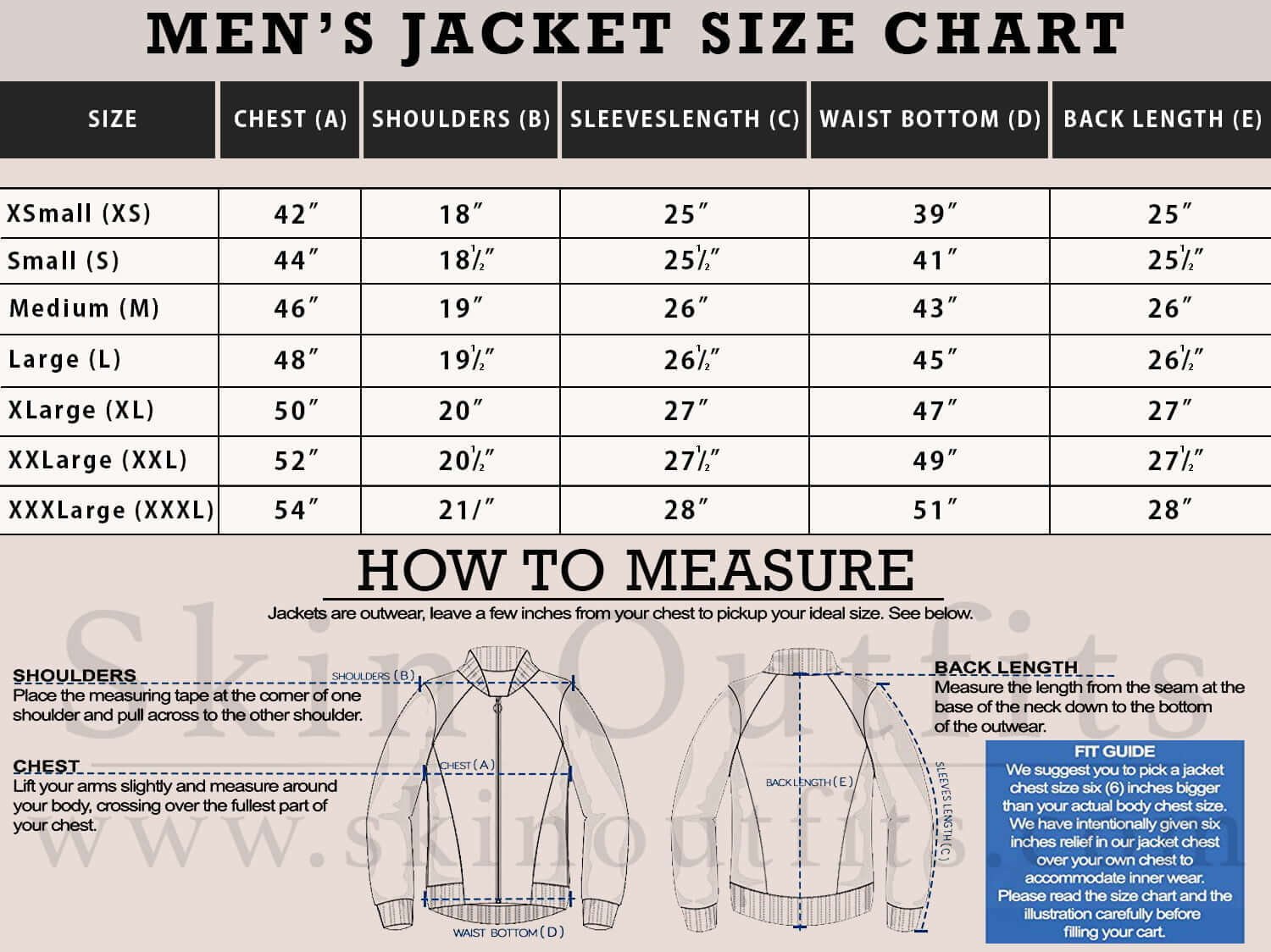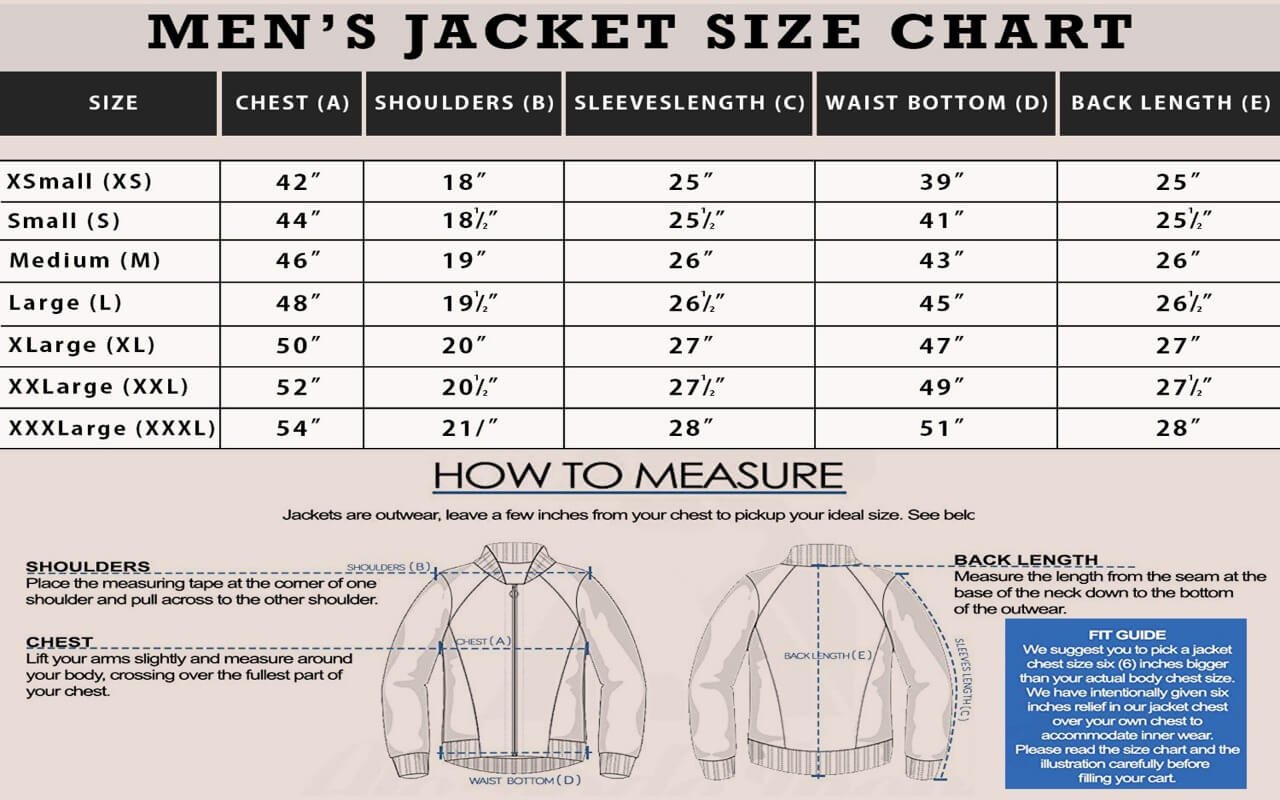 Men Jacket Chart Size
Looking for a jacket that fits your body like it's made just for you? We've got you. Skin Outfits provides you a complete range of sizes in its men coat chart size/men jacket chart size. Also, we give you the easiest way to measure your body because all your measurements are taken close to the body. Also, make sure you're not measuring over regular clothes or jackets.
Men's Measurements
Please follow the men coat chart size/men jacket chart size below to measure your size.
Chest: The chest is the major part of your measurement for the jacket. You must first stand up and then relax your arms. To have a better measurement, ask someone else to wrap the measuring tape around your chest. Make sure there is an inch space for the tape to move. For a regular fitting jacket, you may add an inch more.
Shoulders: Relax your shoulders and ask someone to measure using the tape from one shoulder end to another.
Sleeve: To measure sleeve length, bend your arm and lift it over the chest so you are able to touch your nose with your hand. From the bottom of the neck to the elbow and then to the wrist bone, measure thoroughly.
Waist Bottom: You will measure the waist as you've measured the chest, but with the exception that you'll take measurements from around the waist.
Back Length: You can measure the back length by starting from the seam of the base of the neck to the bottom of your waist.
Please note that whenever you're going to choose your jacket using our men coat chart size/men jacket chart size, we suggest you pick a size that is two inches bigger than your actual size.
Me Time 2022 Sonny Fisher Tracksuit